Aren't we all glad 2017 is over? Well I sure am.
Apart from the whole "new year, new me" shenanigans, I love how a new year brings new trends to address.
​
The fashion industry is a pro at recycling trends, all fashions come back swingy for more. Maybe some adjustments here and there, but practically the same concepts. So don't throw your clothes away because they're not stylish this season, they might make a comeback someday.

In my opinion,

2018

will be a copycat year. We will see past trends from the coolest eras (60's, 70's, 80's, and 90's) coming together to celebrate the 2000's 18th birthday.
This trend report will prepare you with the ultimate goodies for this up and coming year.
​
​
Binge Watching Suits
Reiss Faulkner Tailored Plain Jacket by ASOS ($350)
This year we will be binge watching Suits and no, I don't mean on Netflix. Suits and solo blazer jackets will be everywhere this year, specially plaid patterns. Fashion influencers like WhoWhatWear has predicted this trend as well. The more oversized the better! Business casual will be casual on another level.
​
​
​
​
​
​
​
​
​
​
​
​
​
​
​
​
​
​
​
Acne Studios S/S 18
​
2. Bonnie Beret Baby
Bonnie Beret by Anthropologie ($38)
And what's the ultimate accessory to complement all of those blazers? Berets! Don't we all love the french aesthetic? This trend has been going strong since Fall 2017. Different textures, like fur and colourful wools are reviving this trend for 2018. We saw an overflow of berets in the 80's, and today we also can't get enough.
​
3. We Are Bringing Matrix Back
Vogue's Ultimate Sunglasses Guide for Spring/Summer 2018.
The 90's are back, I repeat the 90's are back! A particular style from the box-office success The Matrix is making a comeback. The infamous Matrix-style angular specs have been spotted throughout many S/S 18 collections. Designer houses like Louis Vuitton, MiuMiu, Maison Margiela are bringing Matrix back. I feel like you either love this trend or hate it with a passion, no in-betweens. Other weird but chic looking specs are in this year, take a look.
​
​
​
​
​
​
​
​
​
​
​
​
​
​
​
​
​
​
4. Shimmery Shimmy Yay Shinny Ya!
Embellished Suede Thigh Boots by Oscar de la Renta ($4,970)
Sorry Not Sorry for the onomatopoeia, but this is what I think about when I see these boots. The late 60's and early 70's brought us the gogo boots, and the 2000's brought us the embellishments and the glitz. Today thigh-high boots of all colours and textures are the norm, but party boots are all about that cigarette heel and glittery material. These boots weren't meant for walking, they were meant for running... the world.
​
5. Wide Pants for Nasty Gals
Stripe By Your Side Wide-Leg Pants by Nasty Gal ($45)
I'm happy to say strips are here to stay, specifically on trousers. Summer pants equals avoiding skinnies and fitted pants. Now we don't have to choose comfort over style. Palazzo pants and culottes lets us have the best of both worlds. Lets thank the 70's and its hippies for a moment. A fluid laidback vibe that looks effortless, yet sophisticated if paired with the right accessories. Also, watch out for sexy splits that add greater movement and flow.
​
​
​
​
​
​
​
​
​
​
​
​
​
​
​
6. Asymmetrical Earrings
Metal Pendant Earrings by Mango ($16)
According to Harper's Bazaar, statement earrings ruled the runways in New York and London for the S/S 18 season. Funky and intricate earrings are going to be big this year, mark my words. Statement earrings will be your go-to accessory. We have repeatedly seen asymmetrical earrings that differ from ear to ear. Also, some designers decided that one earring is good enough. Take a look.
​
​
​
​
​
​
​
​
​
​
​
​
​
​
​
​
​
​
​
​
​
​
​
7. Parisian Chic
Nile minaudière by Chloé ($1,490)
It's a remix of all things good: gold, leather, hoops, and neutral colours. Chloé's Resort 2018 runway bag collection was dreamy, superb, and simply out of this world. This brand is recognized by its amazing takes on handbags. This half-moon shape design might be the next iconic handbag. "Bring Parisian chic to your look" -Chloé
​
8. Ferragive It To Me 2.0
Blue Belts Logo Silver Buckle by Salvatore Ferragamo ($285)
Giving us the blues since 1928, timeless pieces combined with cool colours. If you have read my previous posts, you should know by now that I'm obsessed with Salvatore Ferragamo. I'm specially in love with the accessories and the signature vibe. According to the brand, this belt has a leisure style that strengthens your character.
​
9. Super Light Super Puff
Botanie Puffer by TNA Aritzia ($85)
Puffers on parade this winter! Puffer jackets have a lightweight oversized design and are considered a cold-weather staple. This jacket has been popular since the 80's and 90's when ski dads were rocking them. Today, high fashion designers' puffers are stylized in super new super cool ways using bright colours, patterns, and different finishes. Here are some examples.
​
​
​
​
​
​
​
​
​
​
​
​
​
​
​
​
​
​
​
​
​
​
​
10. Sumptuous Silk
Basinger Top by Reformation ($168)
According to the amazing Blonde Salad, shiny fabrics are still stealing the show in many catwalks. Metallic apparel is making a comeback and silk is an amazing take on this trend. Silky and lustrous materials in gold, silver, and rose-gold tend to give a metallic feel to clothes. Surplice wrap blouses (like the one above) have an amazing deep V cut that creates a very sexy, yet classic silhouette.
Dolce & Gabbana
Miu Miu
Dolce & Gabbana
Dolce & Gabbana
Dolce & Gabbana
Prada
Dolce & Gabbana
Oscar de la Renta
Roksanda
Mary Katrantzou
Burberry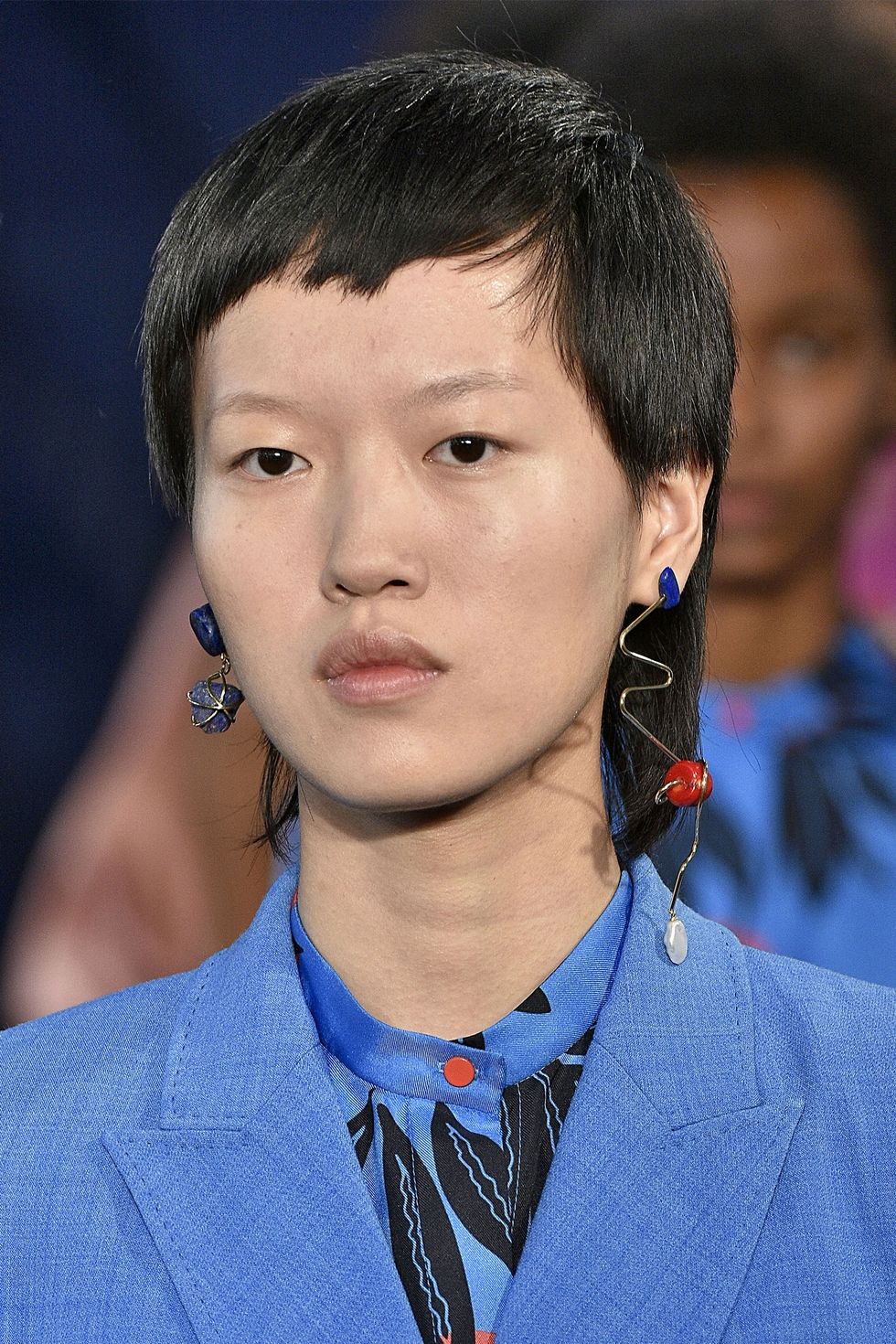 Roksanda
Simone Rocha
Tod's
Fenty x Puma
Y
Versace
Balenciaga
ZARA